I know that most people think about setting new goals in January as a way to jumpstart the new year. But for me, I often feel like my New Year's Resolutions are forced and superficial. I've noticed that I naturally start to think about and set new goals for myself in the fall. I'm not sure why. Maybe it's because the fall signals the beginning of the new school year?
In either case, I've been feeling stuck in a rut lately. I finished JCORE and I graduated from physical therapy at the end of the summer. Since then, I haven't been quite sure what to do with myself. I've been working out but without much of a plan or purpose. If you haven't figured out already, I'm the kind of person who likes to have a plan. I feel better that way.
I know that I need to continue to be smart about my rehab, that I need to continue to build strength in my legs to support my knee. But I'm starting to get really impatient. I just want to jump back in and DO things. How long will it really take me to get to a point where I don't think about my knee with every twist, sudden stop or change of direction?
I realized that one of the things that I need to work on is being consistent with my health and fitness habits. I do well for a stretch and then fall off the wagon. I remember to do my physical therapy exercise but then I get busy and forget.
That's why I am really excited to start Best Body Bootcamp (BBB). It's an affordable 8-week, online bootcamp run by Tina Reale. This is the 3rd round of bootcamp. It starts this week and will run through December 16th. The focus of BBB is to create consistent healthy habits.
I received my first set of emails at the end of last week and I am beyond excited. You can tell that Tina has put a lot of attention and care into the way that she's crafted BBB. She provides a plan for each week, including specific workouts, links to video demonstrations for each exercise and modifications to increase or decrease the intensity of each move. However, the plan also allows for a good amount of flexibility so that you can make it fit your life, lifestyle and fitness level. BBB also includes a number of incentives to motivate and encourage you along the way.
I am going to use BBB as an opportunity to return to a more consistent workout schedule and to focus on improving my diet. I started cleaning up my diet over the summer but I want to continue to build on that progress.
When do you find yourself setting goals? Do you do it once a year or multiple times during the year?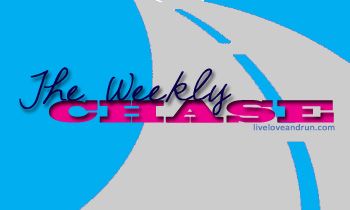 {Linking up with The Weekly Chase hosted by Melissa at Live, Love and Run}

 
*************************
More Ways to Follow Love, Life, Surf
Twitter -> @cyu888 
Instagram ->  cyu888
Facebook -> Love, Life, Surf
Pinterest -> LoveLifeSurf
Email or in Reader -> http://feeds.feedburner.com/lovelifesurfblog